Presented by Samantha De Grenet, in a strictly elegant dress in a stunning, luminous silhouette, the Versali man rode the catwalk at the Promessi Sposi 2021 trade fair in Bari, taking us on a journey through new emotions, colours, cultures and new destinations.
This is the new ANDREA VERSALI CEREMONY 2022 collection in which he immerses himself in the cheerful atmospheres that only Mexico can convey. Colourful Mexican carpets and textiles are the source of inspiration for the main jacquard designs, with the green of cacti and the strong, spicy flavour of chilli becoming the predominant motif on fabrics, prints and lurex embroidery.
In the 2022 collection, the WEDDING DAY, WEDDING COUTURE and SARTORIAL TIGHT moods are joined by the new BEACH WEDDING capsule.
The mood WEDDING DAY is the most representative of the VERSALI collection, dresses with silhouettes that follow the lines of the body in fluid, light pure wool fabrics with micro weaves and tone-on-tone designs, as well as jacquard fabrics for dinner jacket jackets and accessories in predominantly blue tones. WEDDING COUTURE is coloured in red and gold with lurex and Mexican designs reinterpreted in the colours of dinner jackets and suits for major events. The fits are special, refined in style and fabrics, refined and elegant, highlighting the class and identity of the Made in Italy brand.
The SARTORIAL TIGHT mood is enriched with new shapes and lengths such as the spencers worn by the heroic masked avenger Diego de la Vega, to Charlie Chaplin's jacket with jacquard patterns inspired by Mexican fabrics.
The BEACH WEDDING is the new capsule, making its first appearance among the moods of the collection with fabrics and colours that taste of the sea, dresses in shades of beige, pearl, ivory and a soft blue for an unconventional and informal wedding, where jacquard fabrics, mixed with micro effects with light colour contrasts, create lightness and freshness.
We leave you to watch the catwalk video and the photogallery, which is highly representative of a strong but at the same time fluid and positively impactful genre.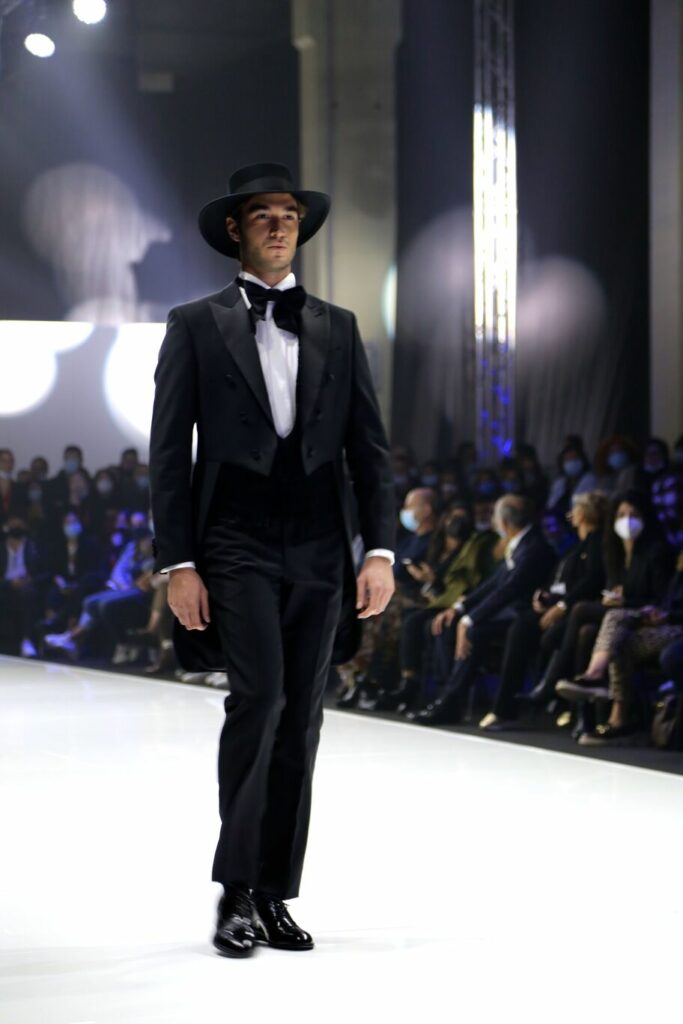 Suits by VERSALI – Creative Director Tullio Di Lorenzo